A new video developed by PROMICON's partners from AIMEN Technology Center shows a unique behind-the-scenes experience, showcasing the research activities that are being carried out within the scope of PROMICON.
The footage presents the different measurements the AIMEN team performs, working on the multispectral characterisation of the microbiome (PHA, EPS, biomass and phycobiliproteins) and multispectral sensor development.
The video further provides insight into the machine learning techniques that are employed to extract micro parameters such as biomass content from IOS spectral images. Since PROMICON's goal is to create a low-cost multi-spectral sensor that can detect and quantify biomass growth and pigments in bacteria microbiomes, the tested sensor will serve as a tool on a platform to support process optimisation and control decisions. With the new optical sensor, the AIMEN experts hope to improve key parameters of microbiome growth processes, achieve continuous monitoring, and eliminate the need for time-consuming laboratory analysis.
Watch the video here.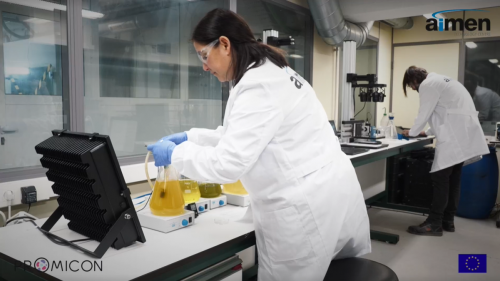 Researchers at AIMEN's lab