Our campaign #Lab_Stories, providing insight into the routine and work of the people behind the PROMICON project, continues on social media! The third feature in the series is Stamatina Roussou. Stamatina Roussou is a PhD-student in PROMICON at Uppsala University.
Stamatina is focused on metabolic engineering for production of chemicals from, and carbon utilisation in, cyanobacteria. Within PROMICON, she is responsible for metabolically engineering cyanobacteria and heterotrophic bacteria in order to establish synthetic microbial consortia for 1-butanol production.
In the video, she is showing us how she works everyday to bring organisms together in a consortium in the form of biofilms, an experiment taking place in the UFZ lab.
Watch the video here.
Follow our social media channels to stay updated and not miss our new videos coming out each week!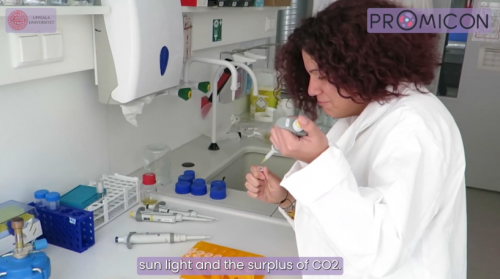 A screenshot from the #Lab_Stories: Stamatina Roussou video