The latest addition to our social media campaign, #Lab_Stories, is here, shedding light on the day-to-day activities of the dedicated professionals who drive the PROMICON project forward. In the eighth episode of the series, we have the pleasure of featuring Beatriz Altamira of the Polytechnic University of Catalonia · BarcelonaTech (UPC). Join us as we delve deeper into her fascinating work and discover the valuable contributions she makes to the project.
In this episode, we gain a firsthand look at the daily work at the Group of Environmental Engineering and Microbiology at UPC, involved in the culture of photosynthetic microbiomes for the production of bioproducts.
Throughout the episode, Beatriz provides us with a glimpse of the exciting research being conducted at UPC, highlighting the groundbreaking discoveries that the PROMICON team has made.
As we wrap up the eighth installment of our #Lab_Stories campaign, we are reminded of the valuable contributions that each member of the PROMICON team brings to the table. We look forward to continuing our journey through the fascinating world of scientific research and discovery, and invite you to join us on this exciting adventure.
Follow our social media channels to stay updated and not miss our new videos coming out each week!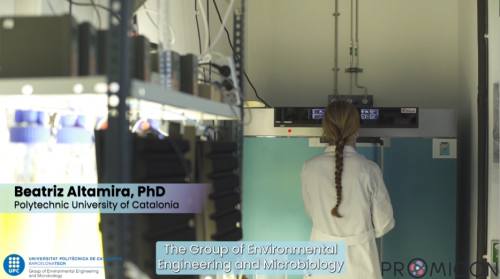 A snapshot from #Lab_Stories ep.8